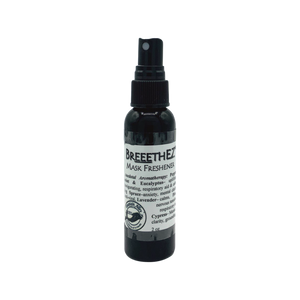 BREEETHEZ
Who would have thought we'd be wearing masks this long?  This Essential Oil Blended Spray is wonderful for a midday freshening of your mask!   Breathe a breath of fresh and calm.  With Myrtle, Marjoram, Pine, Lavender, Cypress, Spruce, Peppermint, and three species of Eucalyptus oils.  This blend of Essential Oils creates a wonderfully clean, sweet, light and refreshing aroma that many aromatherapists say is great for aiding in respiratory concerns
To use: SHAKE WELL, remove mask and spray ONE spritz onto outside of mask, replace mask and enjoy!
WARNING-Not for use in children under 3, and use supervision with children.
VEGAN
Anecdotal Aromatherapy-Peppermint and Eucalyptus- uplifting, invigorating, respiratory aid & calming, Spruce- anxiety, mental clarity, anti-viral, Lavender-calms, Pine- nervous tension, respiratory aid.
If you like this product, our customers have reported that the following soaps help fight mask acne.