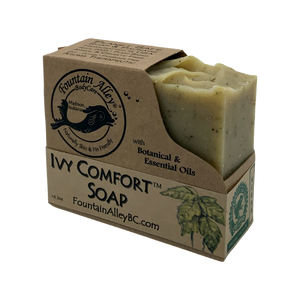 A great bar for after a walk in the woods or working in the garden if the skin has been exposed to poisonous plants. With Jewelwood-known for counter-acting, and clay to help dry up, this is a most sought after bar. The essential oils and herbs included in this bar are known for their soothing and healing benefits. Also works as a great all around camping bar for the hair and body! The all natural and handmade soap bar is a great acne bar as well. We LOVE the smell, too! Some customers just use it all summer, others, all year!
VEGAN
Anecdotal Aromatherapy:
Peppermint- A very versatile oil, refreshing, awakens, stimulates the mind, antiseptic,
Tea Tree- calming, antiseptic, analgesic, antiviral, deodorant, fungicide, bactericide.
Lavender- speeds healing process, antiseptic, antibacterial, helps prevent scars, various skin problems