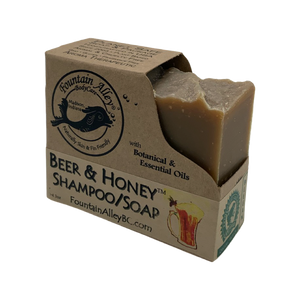 It is a SOAP, which is different than SHAMPOO!  This is our bar we've made since 2005 and some love it, some don't.  If you've tried a "soap" for the hair and it didn't work for you, you may not like it.  You may want to use our Yarrow Shampoo Bar with all naturally derived ingredients and is more like a surfactant shampoo with an acidic base that most hair loves. And if you don't like the Beer & Honey Bar, it doubles as a body bar. 
Age old ingredients for the hair, it's suds are big, fluffy bubbles to cleanse the hair and scalp without detergents or sulfates, it's all natural and handmade! Makes a great all in one camping or travel bar. Great for short hair, works for some long hair with an occasional acidic rinse, such as 1 part vinegar to 4 parts water after rinsing, then rinse or lemon juice for lighter hair colors. Our customers say it does not affect color treated hair.  And remember Hair Soap bars are loved by some, not others, if you find it doesn't agree with your hair, it doubles as a great body soap!
BEEGAN (contains honey)
Honey- Humectant to moisturize hair and scalp.​
Beer- For shine and bounce.