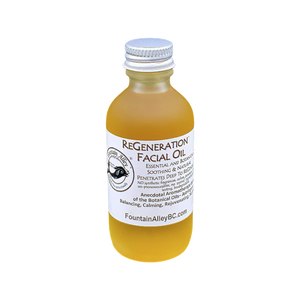 Looking for an effective natural alternative to revitalize your skin? This bio-active facial oil is for you! just a few drips of this astringent blend will penetrate deep to give your skin a healthy and smooth appearance. Some have reported positive changes in as little as 3 days!
 Is your skin experiencing the signs of aging?
Have you lost the firmness and tone of your skin? When you look in the mirror do you notice lines and wrinkles more than your inner beauty? Are you losing that radiance? Have you spent hundreds if not thousands of dollars on products that left you unsatisfied? Skincare is a confusing arena with words most can't pronounce. Look no further as we have combined deep tissue reaching essential oils with astringent Hazelnut oil and nourishing botanical oils, to soak in deep and lock moisture into the tissues. 
ReGeneration Facial Oil is the product you need to reverse the appearance of aging on your skin. With just a few drops twice a day your skin will look more radiant, supple and smooth. It will feel more elastic and fine lines will have a lightened look. The luxurious scent alone will have you looking forward to this part of your self care routine. You could see results in as little as 3 days!
This blend is so powerful that out of 270 other products in our retail store, this product has become our number 1 best selling item!
We have compiled this blend based on research of ingredients that are simple, safe, natural and effective. Our high performance facial oil has ingredients known for their effects on the skin with 13 synergistic essential oils. 
Benefits:

Nourishing
Non-pore clogging
Hydrating
Moisturizing
May reduce appearance of fine lines
May reduce appearance of sun damage
May reduce adult acne
Calming
Skin & earth friendly
Vegan

100% natural
Recyclable glass bottle
Made in USA from globally sourced ingredients
NO parabens
NO phthalates, sulfites, sulfates, mineral oils
NO animal testing
NO animal derived ingredients
NO synthetic fragrances
NO propylene glycol
NO formaldehyde
NO MEA, DEA, TEA, PEG, EDTA
NO artificials or un-pronounceables
 Want more benefits? Check out Our Full Facial Kit!
Don't take our word for it, check out the reviews!
Ingredients:
Oils of Hazelnut, Jojoba, Hempseed, Proprietary blend of 12 essential oils some of which are Chamomile, Blue Tansy, Helichrysum, Carrot seed, Lavender, Palma Rosa & others.