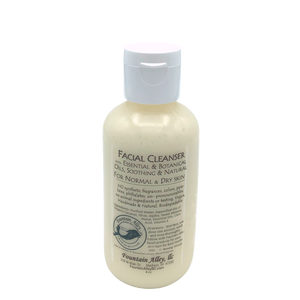 Our Facial Cleanser is a true soap that will suds up nicely to wash away bacteria and makeup, but leaves skin feeling smooth and non-dry.  Super fatted with Jojoba, Sweet Almond, and Olive Botanical Oils, with Hempseed and Coconut Oils it's gentle to the skin.  Lavender, Palma Rosa and other essential oils chosen for their calming and rejuvenating benefits.
All Skin types, but especially beneficial for dry and aging skin.
Non pore-clogging
VEGAN
Morning and Nighttime use
Anecdotal Aromatherapy-
Lavender-calming, clarity, emotional balance, antibacterial, antiseptic, rejuvenates skin cells, queen of all herbs.
Palma Rosa-acne, skin care, scarring, tissue regeneration, nervousness, antiseptic, anti-infectious, antibacterial, anti-fungal
Ingredients:
Purified Water, Saponified Oils of Organic Coconut, Olive, Jojoba, Sweet Almond, Hemp, Essential Oils, citric acit, Vitamin E.