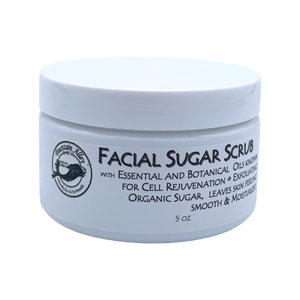 Gently Scrub away dead skin cells with our Organic Sugar and Grapeseed Oil Facial Sugar Scrub. We add our same essential oil blend known for skin cell rejuvenation. Leaves skin feeling new and moisturized. Can be used for all skin types.  Once or Twice a week.
For Teen Acne prone skin use scrub first then follow with our Green TeaTree Soap
For Adult Acne prone skin use first and follow with Salt SeaWeed Soap
For Dry skin wash with our Facial Cleanser and follow with the scrub
As a maintenance for normal skin use once or twice a week either before or after washing.
VEGAN
 Anecdotal Aromatherapy-
Lavender-calming, clarity, emotional balance, antibacterial, antiseptic, rejuvenates skin cells, queen of all herbs
Palma Rosa-acne, skin care, scarring, tissue regeneration, nervousness, antiseptic, anti-infectious, antibacterial, anti-fungal
Ingredients:
Organic Sugar, Grapeseed Oil, Blend of Essential oils, Vitimin E, Rosemary Oleoresin.