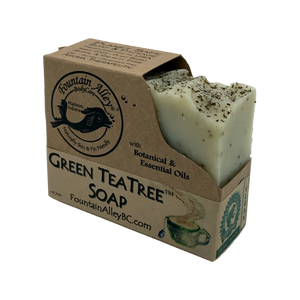 Tea Tree is a favorite ingredient as it is great for skin problems of all types. Antioxidant Green Tea and absorbent Green Clay added makes this all natural handmade bar for all types skin, especially acne prone. We use quality Australian Tea Tree Essential Oil. Known in our store as the "local teen bar."
VEGAN
Anecdotal Aromatherapy:
Tea Tree- Promotes positive outlook, helps mental fatigue, calming, antiseptic, analgesic, antiviral, deodorant, fungicide, bactericide.
Rosemary- relaxing, astringent, antioxidant, antiseptic.