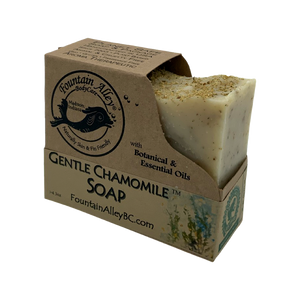 A light fresh all natural, handmade bar, created for facial skin but loved for all uses, superfatted with Jojoba and oils known for skin cell rejuvenation. With Chamomile herb throughout.
VEGAN
Anecdotal Aromatherapy:
Lavender-one of the most versatile and gentle oils, clarity, peace of mind, emotional balance, impatience, stress, headaches, speeds healing process, antiseptic, antibacterial, calms mother during childbirth, helps prevent scars, various skin problems.
Palma Rosa-Vitalizes and regenerates skin cells, Acne, and other skin problems