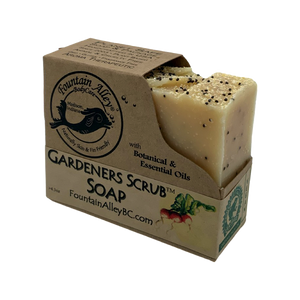 A scrubby bar, with scents of the great outdoors, great for scrubbing those dirty gardening hands, a favorite of construction workers, with scrubbies from the garden-poppy seeds and cornmeal with essential oils to ward off those garden pests. All natural and handmade, it's also a great gift for gardeners, coupled with a pair of gloves, a Shea Body Butter, and a nail brush.
VEGAN
Anecdotal Aromatherapy:
Orange-Cheerful, solar energy, restful.
Patchouli- peaceful, grounding, insect repellent.
Cedarwood- balances, eases aggression.
Cinnamon-antiseptic.