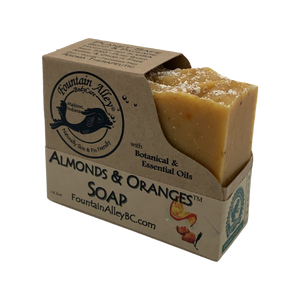 This wonderfully all natural handmade soap is a warm orange scented bar, actually a mix of two of our best sellers, Orange Twist and Honey Almond. No Almond scent, the uplifting oranges are warmed with the honey, and we add the almonds for a nice light scrub.
 BEEGAN
 Anecdotal Aromatherapy:  Orange Essential Oil- cheerful, solar energy, harmony with others, restful.
Ylang Ylang- inspires creativity, eases depression and stresses, euphoric, stimulates hair growth, balances oily skin.
NOTE: Aromatherapy benefits listed are purely anecdotal.  These statements have not been evaluated by any governing authority.  Fountain Alley, llc makes not medical claims but uses published sources for aromatherapy informational purposes only.  If you have a medical condition seek medical help.  Soap is for cleaning the skin, this product is not intended to cure, treat, or prevent any disease.  Keep out of reach of eyes.