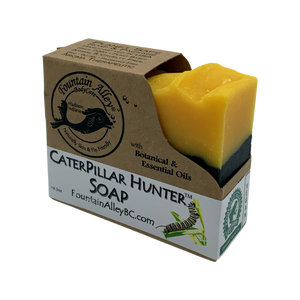 Great bar for Citizen Scientists! One of our 3 MetamorphaSoaps, it is the same as our Bug Go Away Soap! A portion of the proceeds of this soap will go directly to our Milkweed and Monarch Habitat preservation efforts on our own farm, the Monarch Education and Waystation behind our physical store, and to various non profit organizations connected to monarch habitat preservation and education. When you're out in the field, looking at milkweed, searching for those vulnerable monarch eggs or caterpillars, this bar helps to deter those other annoying insects that make the job harder.
All Natural Insect Repelling Essential Oils Soap. This soap was created using the same proven formula of essential oils as our Bug Go Away Spray. NO synthetic Preservatives, Insecticides, Fragrances, Colors, Animal Testing, or Animal Derived ingredients.
 VEGAN
 Anecdotal Aromatherapy:
With essential oils known as insect deterrents by the EPA that "pose little to no risk to human health or the environment." CDC now states that Lemon Eucalyptus oil is as effective as DEET for mosquitoes.