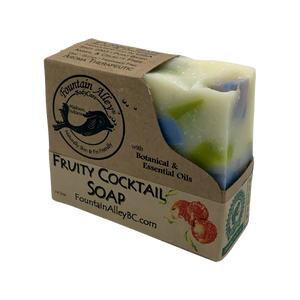 This little jewel is our Fruity Cocktail Soap with many ingredients, as we take many other types of soaps and disperse them into this batch, but the overall scent is from blend of essential oils that smells like a fruity lollipop!  Makes a great hostess gift and a favorite of children but all love it.
This bar has too numerous essential oils to detail.  It also may contain:
Clay, Oats, Nuts, Colorants, Honey.
Non-Vegan