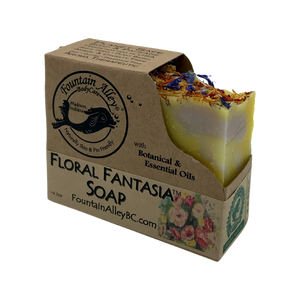 Fantasia-A musical composition of a free form usually incorporating several familiar themes. (wordweb) It's a composition of flowers! Topped with 5 different flower buds, it's beautiful to look at and smells beautiful. All natural and handmade soap with added Shea Butter. One of my favorite bars to make!
VEGAN
Anecdotal Aromatherapy:
Rose-Relieves Tension, depression, sadness, soothing to children,
Lavender--peace of mind, emotional balance, impatience, stress, headaches, speeds healing process, antiseptic, antibacterial, helps prevent scars, various skin problems.
Geranium-fresh, harmonious, quieting, anti septic, antifungal.