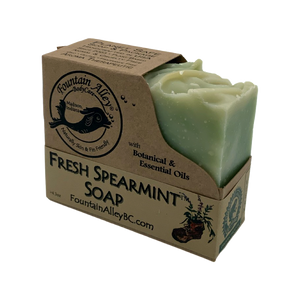 Spearmint Gum in a bar! That's how I feel about this pure spearmint handmade natural soap! It's fresh, yet sweet smelling. There's nothing like this super scent. We superfat it with Hemp oil and I can't help it, I love green soap...
VEGAN
Anecdotal Aromatherapy:
Spearmint– Anti spasmodic, insect repellent, relaxation, fatigue, migraines, nervousness, fever, vertigo. Anti infectious.