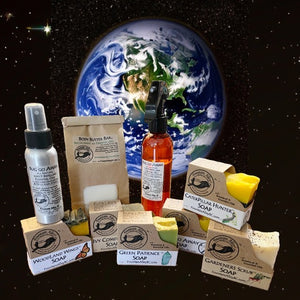 This boxed gift contains a summer's plus worth of use! 
Large Bug Go Away Spray
Small Bug Go Away Spray carry along 
Bug Go Away Soap
Caterpillar Hunter Soap ( same as above)
WoodLand Wings Soap
Ivy Comfort Soap
Gardener's Scrub Soap

Bug Go Away Body Butter Bar
Keep crawling critters at bay with Bug Go Soap, Spray, and Butter Bar! 
Enjoy our Monarch Soaps, celebrating the endangered species. 
Ivy Comfort for after being around poison weeds. 
Scrub dirt away with Gardener's Scrub
EARTH NOT INCLUDED!