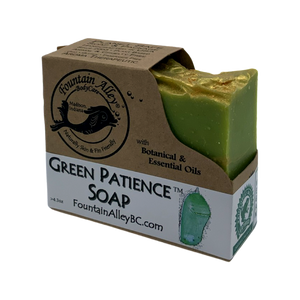 Great bar for Citizen Scientists! One of our 3 MetamorphaSoaps, Our Chrysalis bar! A portion of the proceeds of this soap will go directly to our Milkweed and Monarch Habitat preservation efforts on our own farm, the Monarch Education and Waystation behind our physical store, and to various non profit organizations connected to monarch habitat preservation and education. This stage of the Monarch is captured with Basil, Cypress, and Lemongrass Essential Oil. It is green, it smells green and invokes a feeling of being in a quiet safe spot. Once you reach that inner peace spot, who doesn't shine like gold? With added Mica.
 VEGAN
 Anecdotal Aromatherapy:
Cypress-astringent, calmative, peace, comfort, strength.
Basil-mental fatigue, stress, anti-infectious, confidence, stimulating, clears mind.