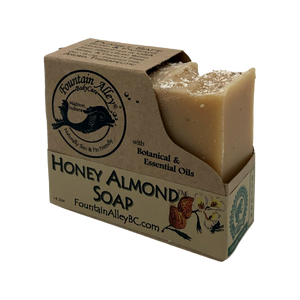 Almonds Almonds this bar is filled with them, with exfoliating ground almonds, soothing almond milk, Superfatted with Almond Oil. Bitter almond essential oil is then specially treated to remove the prussic acid, leaving an oil that is slightly cherry smelling. Honey gives this all natural handmade soap bar a nice finish, soothing and emollient for the skin. A favorite in our store.
Beegan (contains Local Honey)
Anecdotal Aromatherapy:
Bitter almond-Anti fungal, anti viral, antibacterial.