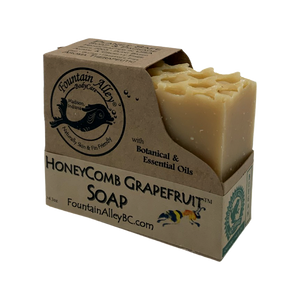 Just like it sounds, it has the honeycomb in it! Beeswax is great on the skin and is what makes our lotions "stay" with you. Sweet Honey added and fresh citrusy Ruby Red Grapefruit top this bar off, don't squirt yourself in the eye digging into this juicy smelling all natural and handmade soap bar in the shower. I love grapefruit in the morning!
Beegan
Anecdotal Aromatherapy:
Grapefruit- Anti-infectious, antiseptic, detoxification, Uplifting.
Honey and Beeswax- skin softening, healing, antiseptic.