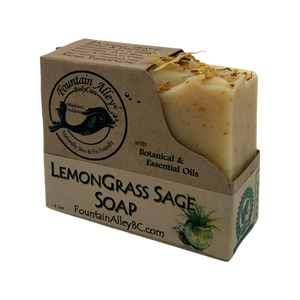 One of our top selling soaps and we know why. It's fresh and clean smelling, it's a sunny yellow bar, and calendula herb infused, so soothing. Our customers tell us it is a great insect repellent and deodorant soap. A good amount of people come in to our 45+ soap shop and head straight for it. Everytime.
VEGAN
Anecdotal Aromatherapy:
Lemongrass-infections, acne, benefits the highly sensitive, general tonic, nervous conditions, cellulite.
Sage-fresh, antidepressant