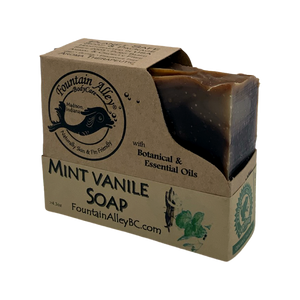 Mint Vanille has been a very popular scent for us in lotion, sugar scrubs and other products. Our customers have pleaded with us to make the soap! It's warm and cool at the same time! It's our very same quality ingredients that are great on the skin. A scent both men and women love.
VEGAN
Anecdotal Aromatherapy:
Peppermint-Refreshing, exciting, stimulates, aids concentration, motion sickness, antiseptic
Vanilla-Warming, mental clarity, natures ancient perfume.