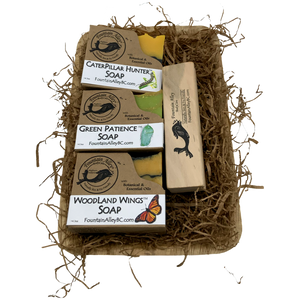 Our 3 MetamorphaSoaps.  The whole gift is Biodegradable!  Earth Friendly as always, this gift set includes our 3 premium Monarch Soaps and our Wooden Biodegradable Nail Brush in a reclaimed and reusable Palm leaf tray, Shrinkwrapped in our biodegradable wrap and paper ribbons. For you or that Butterfly enthusiast. 
Contains our WoodLand Wings-honoring the Butterfly with essential oils that come from the coniferous trees the last generation of Monarchs fly to in Mexico!   
Our Green Patience-It's a very green scent mostly from the essential oil Clary Sage. We put natural Gold Mica into it like the 24K gold look of the buttons on the Monarch Chrysalis. 
Caterpillar Hunter-This is our normal blend of Bug Go Away.  Using the soap before out hunting for Monarch Caterpillars and Milkweed, the essential oils in this bar are known for their insect repellency, so those pesky chiggers and ticks don't really like the smell of your skin! 
A portion of the proceeds of this soap will go directly to our Milkweed and Monarch Habitat preservation efforts on our own farm & courtyard at our physical store, the Monarch Education and Waystation behind our physical store that we're working on, and once those projects are done it will go to various non profit organizations connected to monarch habitat preservation and education. 
 As always ALL NATURAL, ESSENTIAL OIL ONLY SCENTED!
VEGAN
 Anecdotal Aromatherapy-Calming, Balancing, Grounding and more