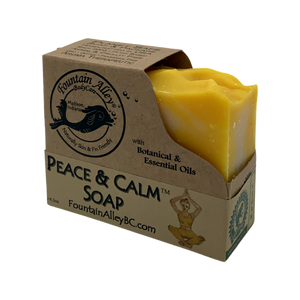 We made this bar with a yoga group in mind. The oils are known to be grounding, centering, just what you need to do that tree pose! It's warm, earthy and sweet. Yoga in a bar, all natural and handmade soap. Namaste.
VEGAN
Anecdotal Aromatherapy:
Lavender-clarity, peace of mind, emotional balance, impatience, stress, headaches, speeds healing process.
Ylang Ylang- inspires creativity, calms heart and nerves, soothe negative emotions,
Cedarwood-Balancing, grounding, earthy,
Patchouli-peaceful, grounding, strengthens.