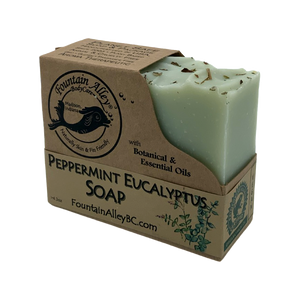 Awakens in the morning or cools down after a workout, a favorite bar with absorbent French Clay, and sprinkled with a medley of mints. This is a favorite all natural handmade soap of men and women alike.
VEGAN
Anecdotal Aromatherapy:
Peppermint- A very versatile oil, refreshing, enthusiasm, excitement, awakens, stimulates the mind, aids concentration, antiseptic, motion sickness, headaches, nausea.
Eucalyptus- Invigorating, balancing, speeds healing process.​