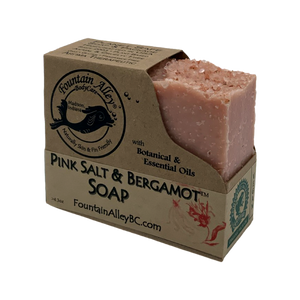 This much awaited soap is full of Pink Himalayan Salt, Shea Butter, and we've added essential oils of Bergamot, Ruby Red Grapefruit and Ylang Ylang. It works much like our Salt & SeaWeed as far as moisturizing and bubbling and it's just as beautiful. The scent is easy, citrusy with a slight floral note.
VEGAN
Anecdotal Aromatherapy:
Bergamot- purifying, calming and uplifting, rejuvinate skin.
Ruby Red Grapefruit- energizing to nervous system, vibrant and cheerful
Ylang Ylang- sweet, sensual, euphoric, depression, balances oily skin.Uses- multi purpose to hands, body, face, normal to oily