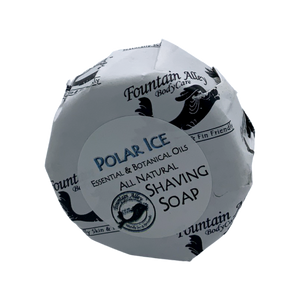 Polar Ice-a Cooling and Refining shave soap, Peppermint working with Lavender and a smidge of Patchouli to warm it up. Named after a white horse we owned in the 90's, what's more COOL than that?
The Bentonite Clay in the soap gives your razor a better "slip" across the face (or legs for that matter).  Create a lather with your hands or our shave brushes on the 'men's items' page.
LONG LASTING, all natural and handmade.
Anecdotal Aromatherapy: Peppermint-antiseptic, anti-infectious, stimulant, analgesic,  acne 
Lavender- Skin infections, tonic, anti-inflammatory, calming, antiseptic, anti infectious.
Patchouli-Grounding, skin care, antitoxic, astringent, calmative
VEGAN

 Uses- Shaving, may be used as a body bar as well.