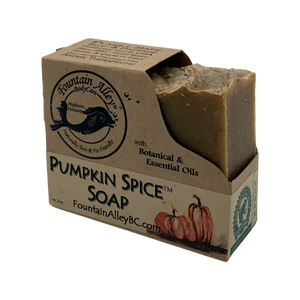 Not just for the holidays, Pumpkin is full of vitamin A-a known antioxidant, and it's soothing and hydrating. A favorite bar since we came out with it one Thanksgiving holiday. Yes, it smells like Pumpkin Pie!
VEGAN
Anecdotal Aromatherapy:
Nutmeg-stimulant, warming.
Cloves- Anti-septic, antibiotic, anti-fungal, anti viral, antispasmodic, anti-parasitic, warts, stress, mental debility, scabies, ringworm.
Cassia-infections, stimulant, antiviral, antibiotic.
Vanilla Absolute-one of nature's oldest perfumes, soothing, mental clarity.