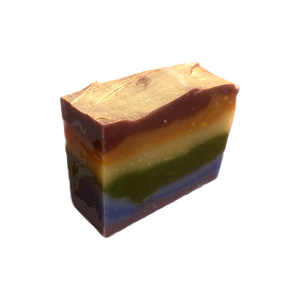 What does a rainbow smell like? Well, a fresh rain, of course. Clean, crisp, beautiful. We use citruses and mint to solidify that into a bar!  The Bible tells the story of the bow in the sky as a token of God's promise to never cause a flood to destroy His creation again.   Genesis 9:15-16- It's my favorite rainbow story. 

It's a full rainbow of color and scent, pure and natural ingredients: Saponified blend of Botanical Oils including Rainforest Alliance® Certified Palm Oil, Olive Oil, Coconut Oil, and Ricebran Oil, and Essential oils, colorants.
Lemon, Orange, and Peppermint Essential Oils-great uplift for the morning shower.
 Aromatherapy benefits are purely anecdotal.  These statements have not been evaluated by any governing authority.  Fountain Alley, llc makes no claims but uses published sources for aromatherapy purposes only.  If you have a medical condition, seek medical help.  Soap is strictly for cleansing the skin. ©