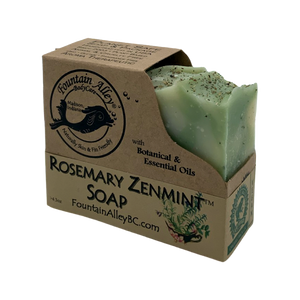 Fresh, wake you up bar. Rosemary is great for problem skin and the spearmint gives a wonderful added freshness- With Zen throughout! As always all natural and handmade. Many people like this one for their hair. Short hair gives best results.
VEGAN
Anecdotal Aromatherapy:
Rosemary- Exhilarating, activating, courage, mental clarity, skin problems.
Spearmint- Refreshing, Uplifting.Herbs of Green Tea-antioxidant, Spearmint, and Lemongrass.​