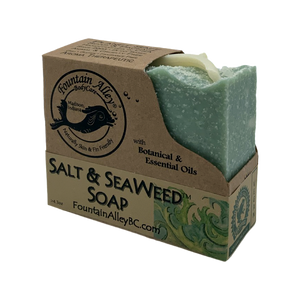 It's fresh and salty like sea air, with Kelp, Irish Moss, and Salts from the Celtic Sea, it bubbles nicely and the salt is oh so softening with added Shea to be non drying. Known in our store as an adult acne bar, but is an excellent all over soap.
VEGAN
Anecdotal Aromatherapy:
A proprietary blend- acne, skin care, scarring, tissue regeneration, nervousness, antiseptic, anti-infectious, anti bacterial, anti-fungal, antiviral.
Salt-cleansing, softening.​