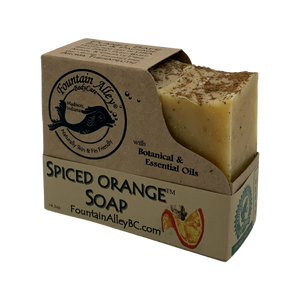 Oranges and Cloves makes this a wonderfully warm scent. It's lively, fresh, yet warm. A much requested all natural, handmade soap bar. I usually don't recommend anything with cinnamon or clove for sensitive skin, but we've never had complaints!
VEGAN
Anecdotal Aromatherapy:
Orange-cheerful, solar energy, harmony with others, restful.
Clove- Anti septic, antibiotic, anti-fungal, anti viral, antispasmodic, anti-infectious, warts, stress, mental debility, scabies, ringworm.
Patchouli- Strong, earthy, peaceful, grounding, calms stress and anxiety, anti septic, anti-fungal antibacterial, insect repellent.
Cassia--infections, stimulant, antiviral,