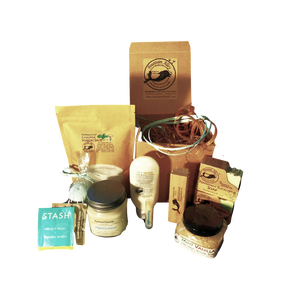 If you're stuck at home and cut off from much of the world OR you're out there on the front lines, fighting the unknown enemy, either way, this kit's for you. Always all natural, always ecofriendly! Comes in a recycled paper Biodegradable box and paper ribbons. Great for a gift for someone not feeling so well.

Put the water on for tea, run the comfortable hot bath, light that Soy Candle in a safe place, on the bathroom counter maybe? Take that cup of Organic Tea to the bathtub with you, put in a handful or two of our Soaking Salts, bring all your other all Natural Bodycare items from the StayCation Spa Box. You have some amazing Natural Soap to wash with, Lift out parts of your body from that wonderfully soothing water to use your Organic Sugar Scrub, Use that Natural Biodegradable Nail Brush to scrub those feet, and nails. Don't forget to put on your Natural LipBalm to soften and soothe the lips, now drop in an Essential Oil Bath Bomb and relax with the transcending effect. Once you get out, use that rich Shea Body Butter or lotion and go take a rest if possible. ReNewed you'll be, Yoda.

Choose from either (Im anxious about it all)- Relaxing Lavender, (I'm sick of it and ready to take on the world)-Invigorating Mints, Or (I'm taking this time to find myself)-Popular Mix.
Mint:
Peppermint Eucalyptus Soaking Salts
Peppermint Eucalyptus Soap
Fresh Spearmint Soap
2 Mint Bath Bombs
Mint Vanilla Lotion
Mint Vanilla Sugar Scrub
Peppermint Candle
Nail Brush
Mint Lip Balm
2 Minty Tea Bags
Lavender:
Lavender Soaking Salt
Lovely Lavender Soap
Lavender & Oats Soap
Lavender Shea Body Butter, 4 oz
Lavender Candle
2 Lavender Bath Bombs
Lavender Sugar Scrub, 8 oz
Nail Brush
Spearmint Lip Balm
2 misc tea bags
Mixed:
Rose Soaking Salts
Orange Twist Soap
Lemongrass Sage Soap
Lavender & May Chang Bath Bombs
Tropical Blast Candle
Almond Cherryish Lotion
Nail Brush
Orange Lip Balm
Red Grapefruit Sugar Scrub
2 misc tea bags