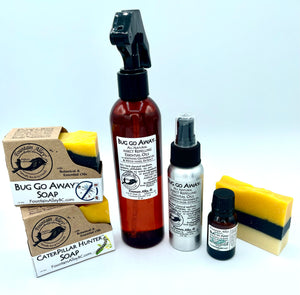 All of our Bug Go Away products in one discounted bundle. 
Essential Oils listed with EPA as insect deterrents that "pose little to no risk to human health or the environment."  CDC now states that Lemon Eucalyptus is as effective as DEET for mosquitoes. 
All always it's all natural.  For ages 3 and up.   
1   9 oz Bug Go Away Spray
1   2.2 oz Bug Go Away Spray
1   15ml Bug Go Away Essential Oil Concentrate
2 Bug Go Away Soaps (one labeled Caterpillar Hunter, a great gift for an outdoor enthusiast or use yourself)
We suggest that you use the soap a few days to get the essential oils onto the skin all over.  Nice to use an exfoliating accessory like the Soap Net.
Be aware-what you put on your skin is washed into the Earth's water supply.  At Fountain Alley BodyCare we're committed to creating products with only ingredients that are great for your skin, urly natural, and safe for the planet.  It's all...
Naturally Skin & Fin Friendly!