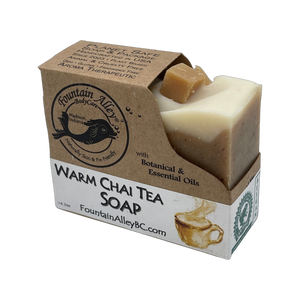 Seasonal Chai Tea Soap. It has local honey, cinnamon, cloves and what makes it even better?  Pairs well with our Warming Chai Spices Brown Sugar Scrub  LIMITED TIME BAR.
BEEGAN
contains Almond Milk (nuts)
Pure and natural ingredients: Saponified blend of Botanical Oils including Rainforest Alliance® Certified Palm Oil, Olive Oil, Coconut Oil, and Ricebran Oil, Almond Milk, Honey, Spices.
Anecdotal Aromatherapy-
Cassia-antibacterial, antiviral, warming
Cloves-antibacterial, astringent
Nutmeg-antimicrobial, respiratory system, stomach upset
Aromatherapy benefits are purely anecdotal.  These statements have not been evaluated by any governing authority.  Fountain Alley, llc makes no claims but uses published sources for aromatherapy purposes only.  If you have a medical condition seek medical help.  Soap is strictly for cleansing the skin.©