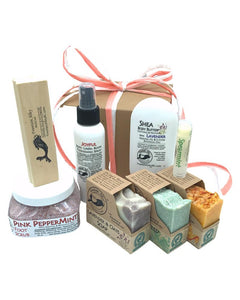 With some of our favorite aromatherapy products, it's 
a perfect bundle or gift to prep for summer fun. Get ready for sandals! Scrub those winter blues away with refreshing Pink Peppermint Foot Scrub, Bio Nail Brush and follow with the Lavender Shea Body Butter. Joyful Spray is a light citrus/floral blend. 
Lavender & Oats Soap
Orange Twist Soap
Pink Salt & Bergamot Soap
Lavender Shea Butter
Bio Nail Brush
Pink Peppermint Foot Scrub
SpearMint LipBalm
Joyful Linen-Room-Body Spray
All in our Biodegradable Unbleached Recycled Paper Box and Ribbons.  If it's a gift for someone else we can fill out a note card for you! At Checkout write in the notes section how the card should read. 


Like all of our products, it's all natural, essential oil scented, biodegradable ingredients that are not harmful to the environment. 


VEGAN except
Shea Body Butter and LipBalm are
BEEGAN (contains beeswax)