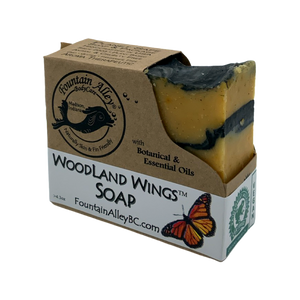 Great bar for Citizen Scientists! One of our 3 MetamorphaSoaps, A portion of the proceeds of this soap will go directly to our Milkweed and Monarch Habitat preservation efforts on our own farm, the Monarch Education and Waystation behind our physical store, and to various non profit organizations connected to monarch habitat preservation and education. Those last generation Monarch Butterflies will be heading south to overwinter in some evergreen coniferous trees many many miles away and that's what this soap smells like! With our Blend of Trees essential oil blend.
 VEGAN
 Anecdotal Aromatherapy:
Cypress-astringent, calmative, peace, comfort, strength.
Cedar-Balancing, grounding, optimism, anti-fungal and other evergreens.